Croatia's Mediterranean Multi-Sport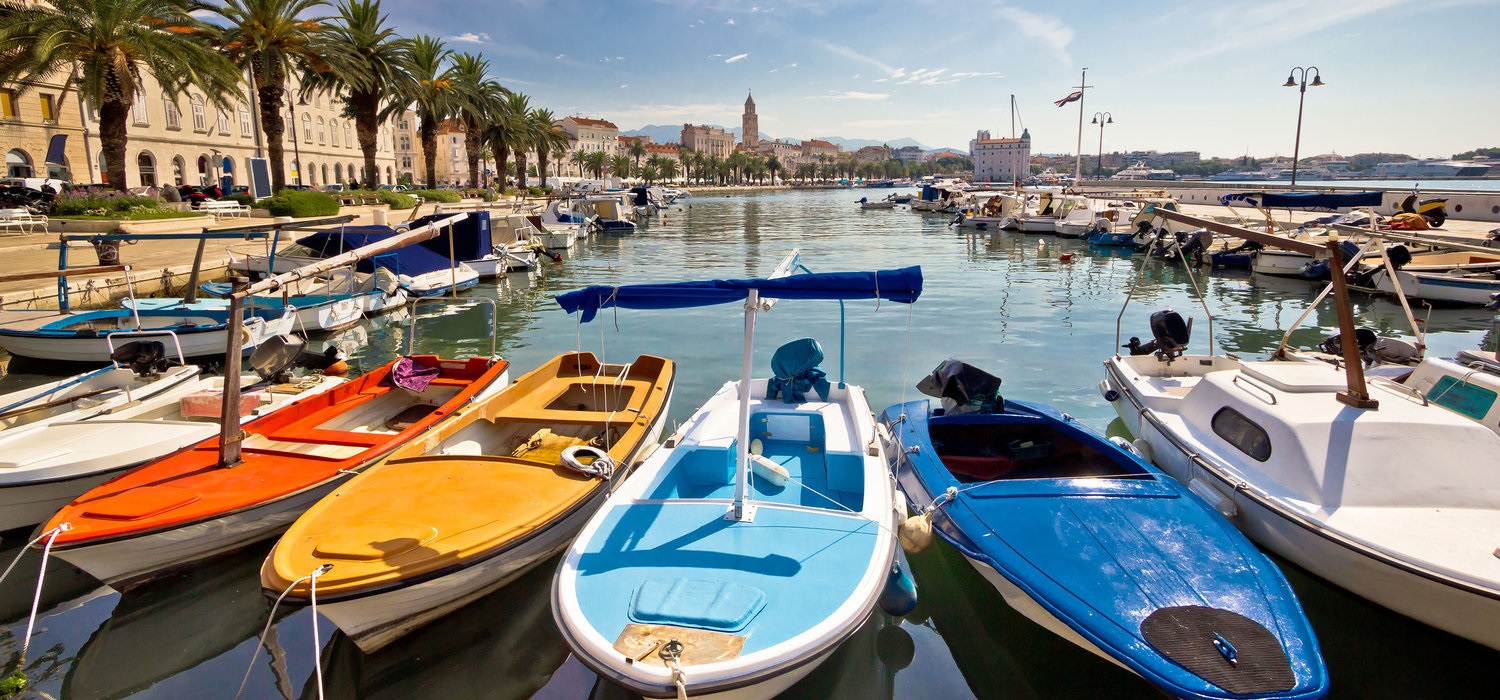 Croatia's Mediterranean Multi-Sport
CROATIA, EUROPE
Seeing Croatia for the first time is a life-changing experience. This 11-day adventure based on the green-blue waters of the Mediterranean is the ultimate way to get your feet wet in a brand new ocean.
from $7,450 pp 11 Days/10 Nights $677/Day
Croatia, Europe's Best Kept Secret
SPLIT | KRKA NATIONAL PARK | HVAR | DUBROVNIK

Seeing Croatia for the first time is a life-changing experience. And to visit with the entire family, well that is the ticket! This 11-day adventure based on the green-blue waters of the Adriatic Sea is the ultimate way to get your feet wet in a brand new ocean.
Blessed with magnificent scenery and incredible history, Croatia is enriched with undeniable character and delicious regional foods and wines. Mediterranean, European, and Balkan influences have all played a role in coloring the culture of Croatia, from its pastoral countryside to its shimmering coastlines. You'll get to fully immerse yourself in lush national parks teeming with flora and fauna and stunning waterfalls, and in glistening lavender- and citrus-scented islands in the sun-drenched Adriatic Sea. Every activity, from the windsurfing to the quad-riding, is appropriate for kids 8-years-old and up. Don't wait to bring them along—these are memories that will stay with your family forever. No matter who you travel with, we think you'll see why Croatia is a region so divine that it has been named one of the best travel destinations in the world.
Prefer to chat?
Give us a ring at
1-888-870-0903.
A Place Called Split
SELECT HOTEL
Your Croatian adventure kicks off in a storied place in the Bay of Aspalathos in the heart of Dalmatia—a city called Split. This is where in the year 305 the Roman Emperor Diocletian, who ruled the world at the time, decided to build his vacation home. Now, this 1,700-year-old city is a hub for Roman legacy, breathtaking beaches, and happening nightlife.
You will spend your first day soaking up the beauty of the area and settling into your boutique hotel. On day two, embark on a quad adventure fit for the whole family. No experience is necessary. You'll be zooming through the Dalmatian bush land and mountain trails, experiencing the beautiful scenery and pausing along the way to soak it all in. That afternoon, slow the pace down with a stand-up paddleboarding outing along the coastline. The next day, journey to Krka National Park to view seven distinct waterfalls. You'll also get to see a Franciscan monastery dating back to the fourteenth century on the island of Visovac.
On your fourth day travel to Omis, a small town and harbor in Central Dalmatian located between Split and Makarska. This area is steeped in history–especially that of marauding pirates–and surrounded by natural features including the Cetina River and massive gorges. Photograph the stone fortresses and churches and imagine yourself transported back in time. That afternoon, go river tubing on the Cetina through the Dalmatian hinterland, followed by a fast-paced cruise through the treetops via zip-line.
Your last day based in Split is the best of all—canyoneering along the Cetina River. You'll explore the mystical shapes of the river bed, swimming and scrambling along the river bed, scouting for waterfalls, subterranean tunnels, and beautiful cliff faces. Your guide takes care of all the technical details so all that's left for you to do is find undiscovered hidden gems. If time allows, you can polish off the day with a casual 10-mile bike ride through Split.
The Lavender Island of Hvar
SELECT HOTEL
The Island of Hvar has been rated one of the best in the world, and it's easy to see why. You'll kick things off with a sea kayaking expedition along the coast or to the Pakleni Islands followed by a leisurely evening getting settled in your new digs. The following day, try your hand at windsurfing in perfect conditions. Your surf school is based out of Vrbovska, where a great combination of wind, waves, and sun make for a beginner and kid-friendly setting. On day eight, you'll visit Ston, a small fourteenth-century Mediterranean town on the Peljesac Peninsula. Peruse the ancient houses, see the longest stone wall in Europe, and harvest local oysters for a light lunch.
Paddle Dubrovnik
SELECT HOTEL
Dubrovnik is a medieval city on the Croatian side of the Adriatic Coast. In the past, it was a City-Republic, and alongside Venice one of the most famous cultural-economic centers on the Mediterranean. Now it's a treasure trove of cultural and historical monuments that were created throughout its thousand-year existence. Today Dubrovnik is a hub for hip, cultural events including summer festivals and museums and art galleries. This will be your base camp for a stunning sea kayaking adventure. You'll launch beneath an ancient fort in a place called Pile, heading off with expert guides to Lokrum Island. After circumnavigating the "Island of Love," tuck into a hidden cave beach called Betina. Snorkel, picnic, and tuck your toes into the warm sand before heading back. The following day will be a leisurely finale on your own terms so you can fully reflect on your Croatian adventure before heading home.
Quad-bike through the countryside and mountain trails on automatic bikes, no experience necessary

Stand-up paddleboard along the coastline near Split

Visit Krka National Park and see all seven distinct waterfalls, a photographer's dream!

Canyoneer the Cetina River

Zip-line through the hinterlands
Ride bikes through Split

Sea-kayak to the Pakleni Islands outside of the Lavender Island of Hvar

Try your hand at windsurfing in an area perfect for beginners and experts alike

Shuck oysters and eat them for lunch

Sea-kayak to hidden and secluded beaches on Lokrum Island off the coast of Dubrovnik
Make an Inquiry
Croatia Mediterranean Multi-Sport

Once you submit your form, we'll get back to you with ideas, questions, options and logistical insight to begin planning the trip of your dreams. It's as simple as that.